2012 Calendars
Are Here!
You can purchase them at Over the Moon Beads, Cambridge NY or order from me directly, $9.95 plus $1.95 shipping and
7% NY sales tax if you are in state. E-mail me for information.
This is the 5th Anniversary of the Over the Moon Graphics calendars. I have used a combination of mediums this year, from watercolor to colored pencils on black illustration board, plus 1 digital painting and some digital enhancement. I worked with the theme of icons, with inspirational words like perseverance, joy, create, dance, peace, love & imagine.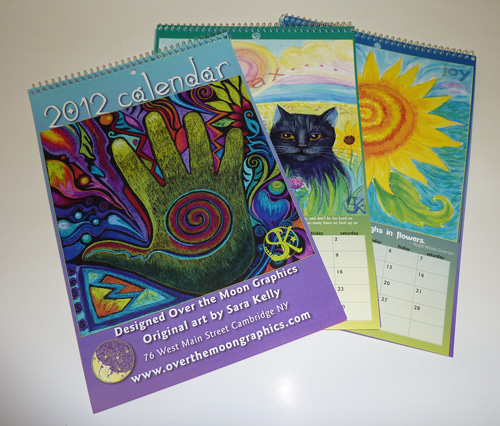 The art from this calendar along with the art from the previous calendars is available as note cards and framed prints for sale at Over the Moon Beads and Gifts, 76 West Main Street, Cambridge NY.
Over the Moon is an interesting store where you can bead a necklace, purchase a wide variety of incense and get your business cards designed, all in one stop! For more information or to contact me go to my facebook page, or e-mail me. Check out www.overthemoonbeads.com to find out more about the bead store.